When a service location creates a case for an asset, they will send approval requests for estimate on work to be done for that case. Fleet users will need to take various actions within the case before responding to the dealer. These actions can include:
Review and approve line items
When a service location sends an approval request, the fleet will need to review and approve pending estimate line items.
Start by accessing the case from the Cases page. The line items pending approval will be displayed at the top of the Viewing Case screen.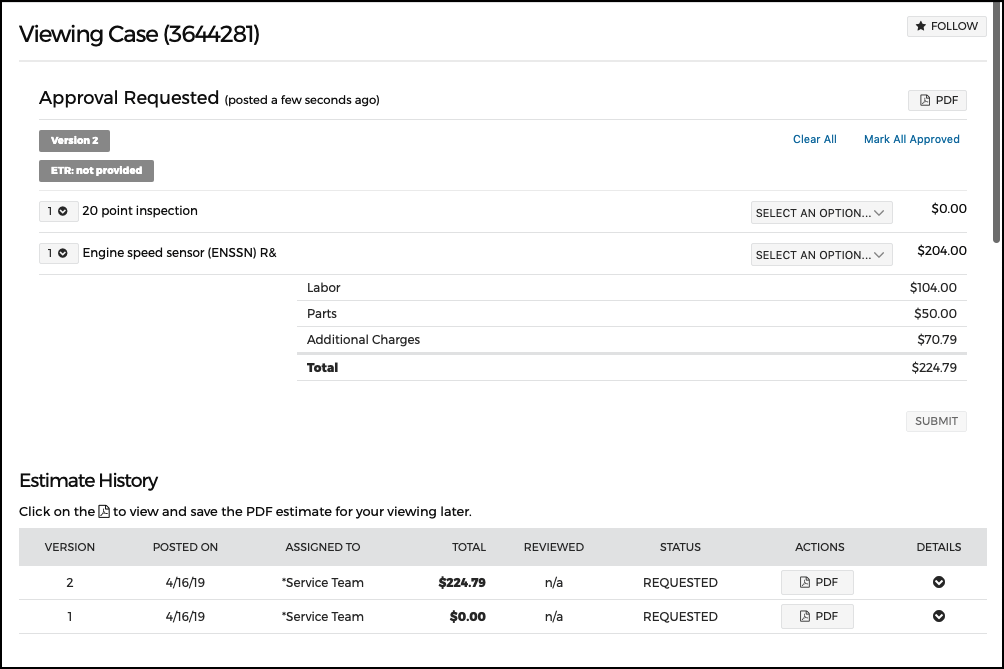 To approve items individually, click the SELECT AN OPTION dropdown to display the three options. The three options are Approved, Defer and Decline.
Approve means you authorize the work.

Defer means you want to get it done at another time.

Decline means you do not want that work done at all.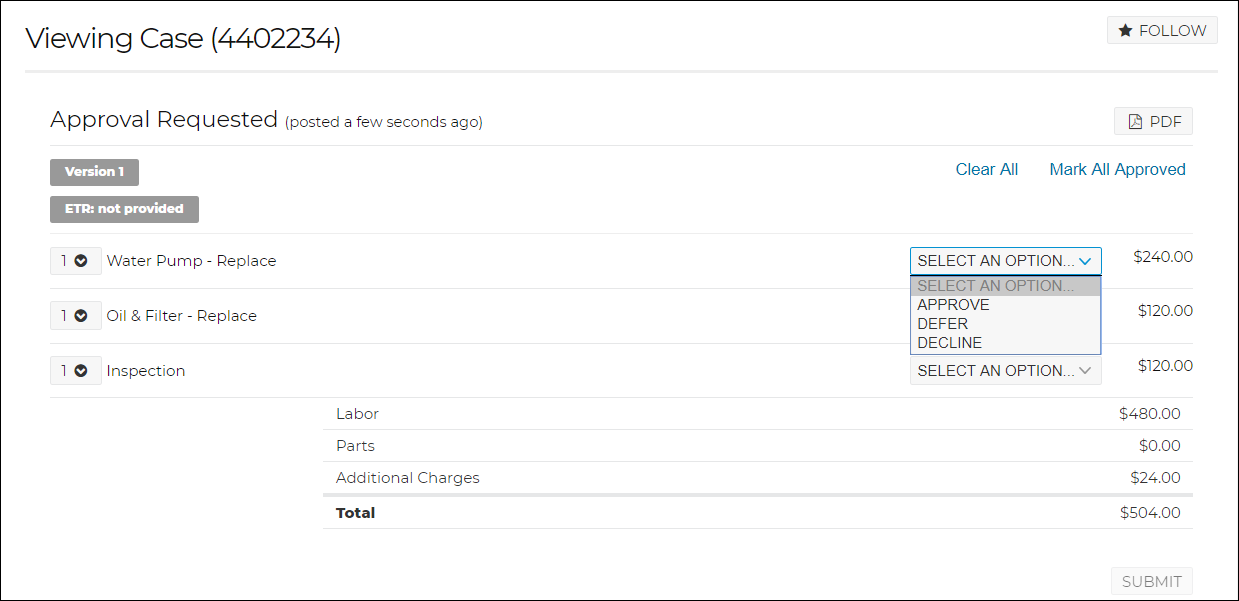 Select an option for all items pending approval, then click SUBMIT to send your response back to the service location.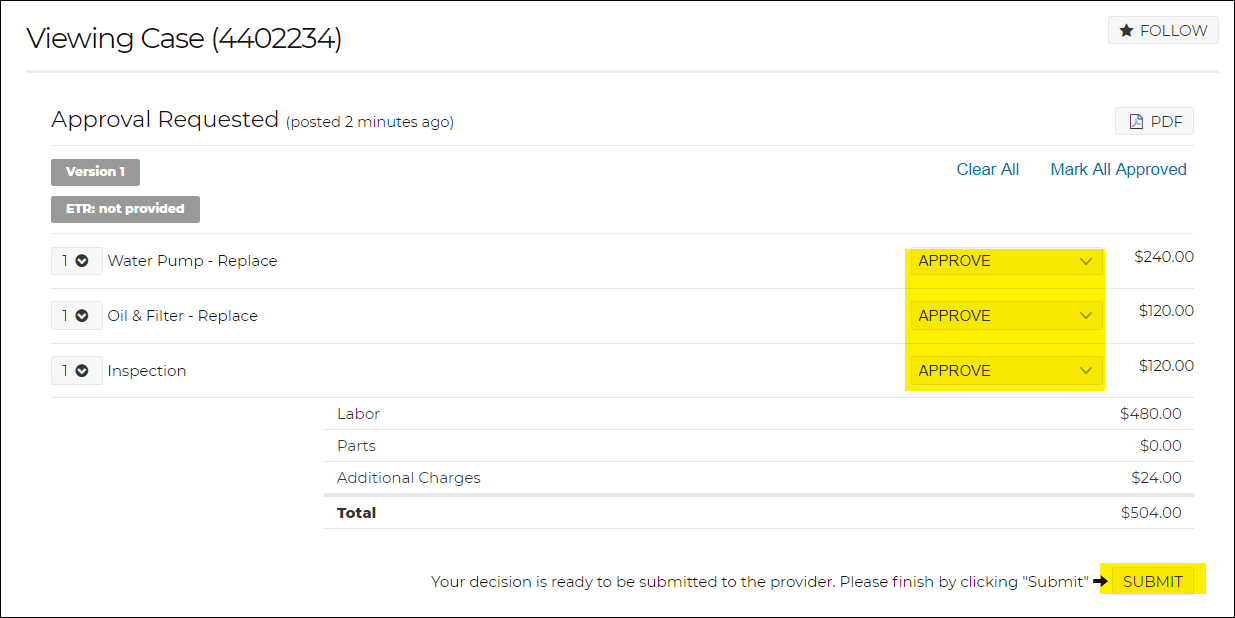 The line items will collapse and an internal note of your actions is recorded in the Conversation section.



Approve All Line Items
To approve all items at once, select Mark All Approved form the top of the estimate. This will mark all items approved so you don't have to select each individually.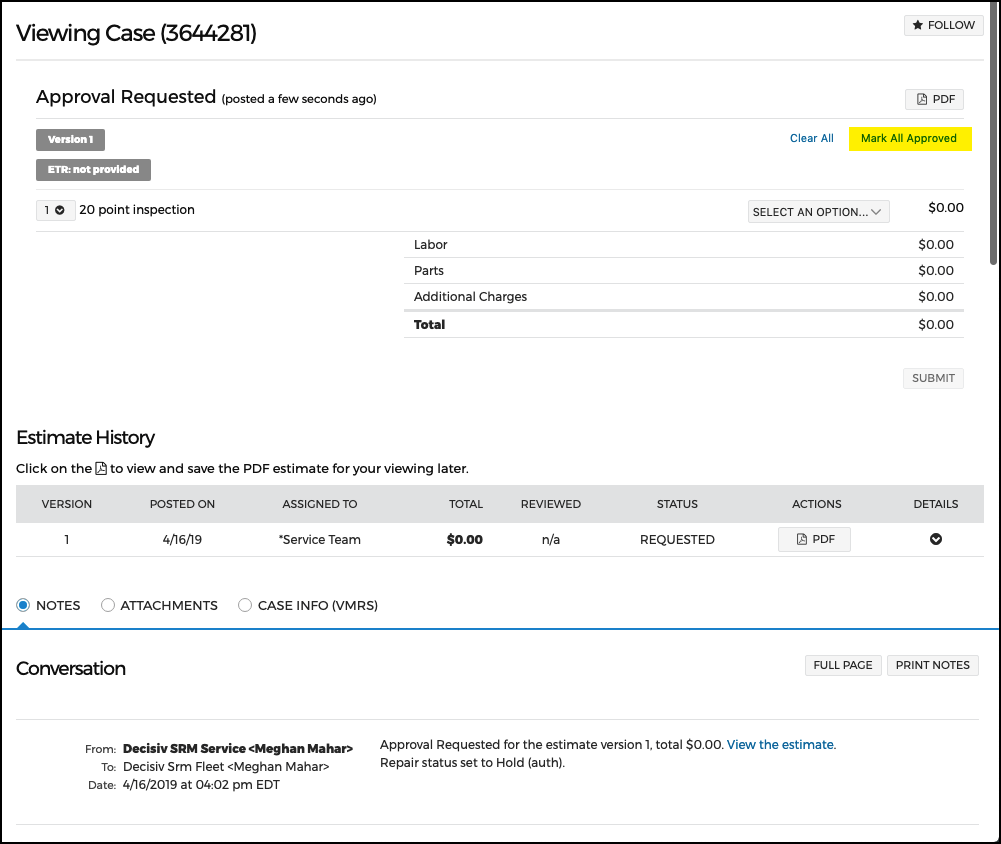 Review inspection details
To view details on an inspection, click the form icon on the inspection line.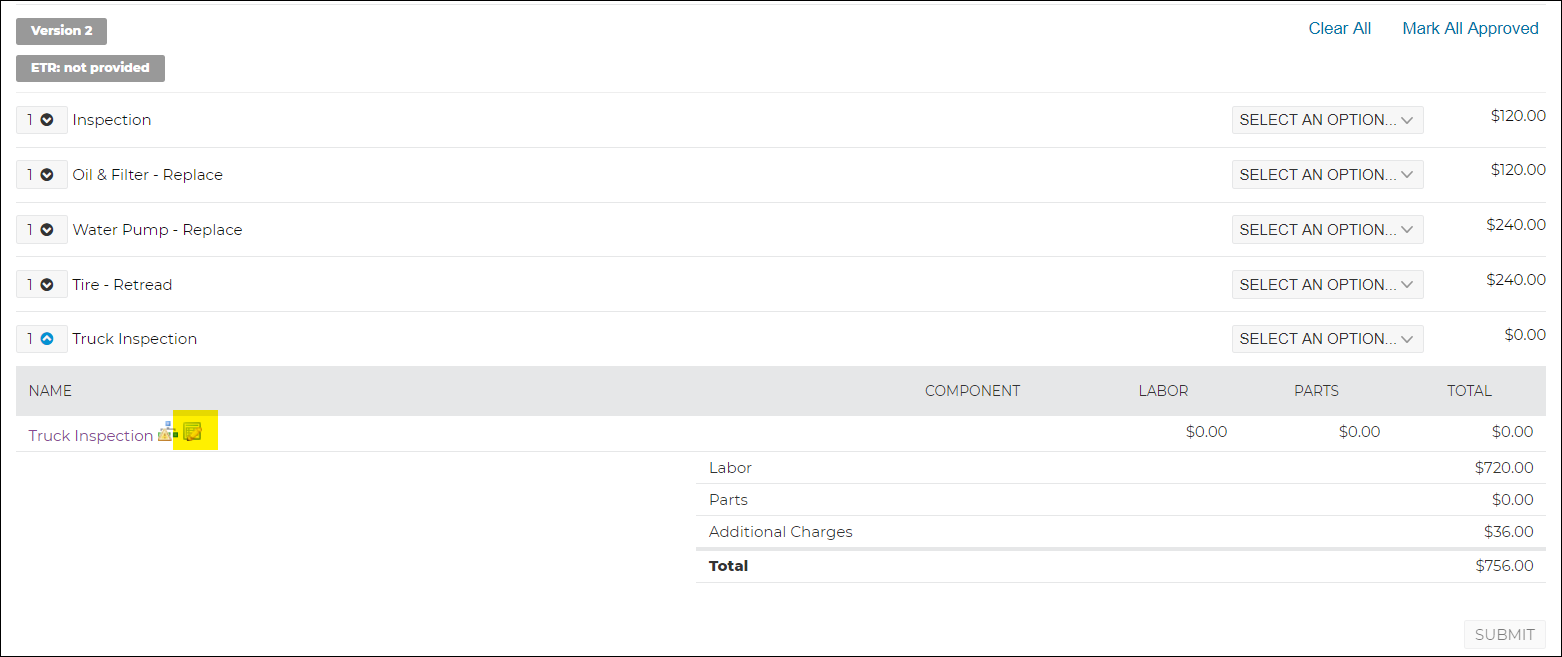 On the Inspection Details page, you can view the inspection form with descriptions, locations, outcomes, and notes for each inspection line item.

Add VMRS coding
To add any VMRS codes to an operation, click the VMRS icon on the operation line.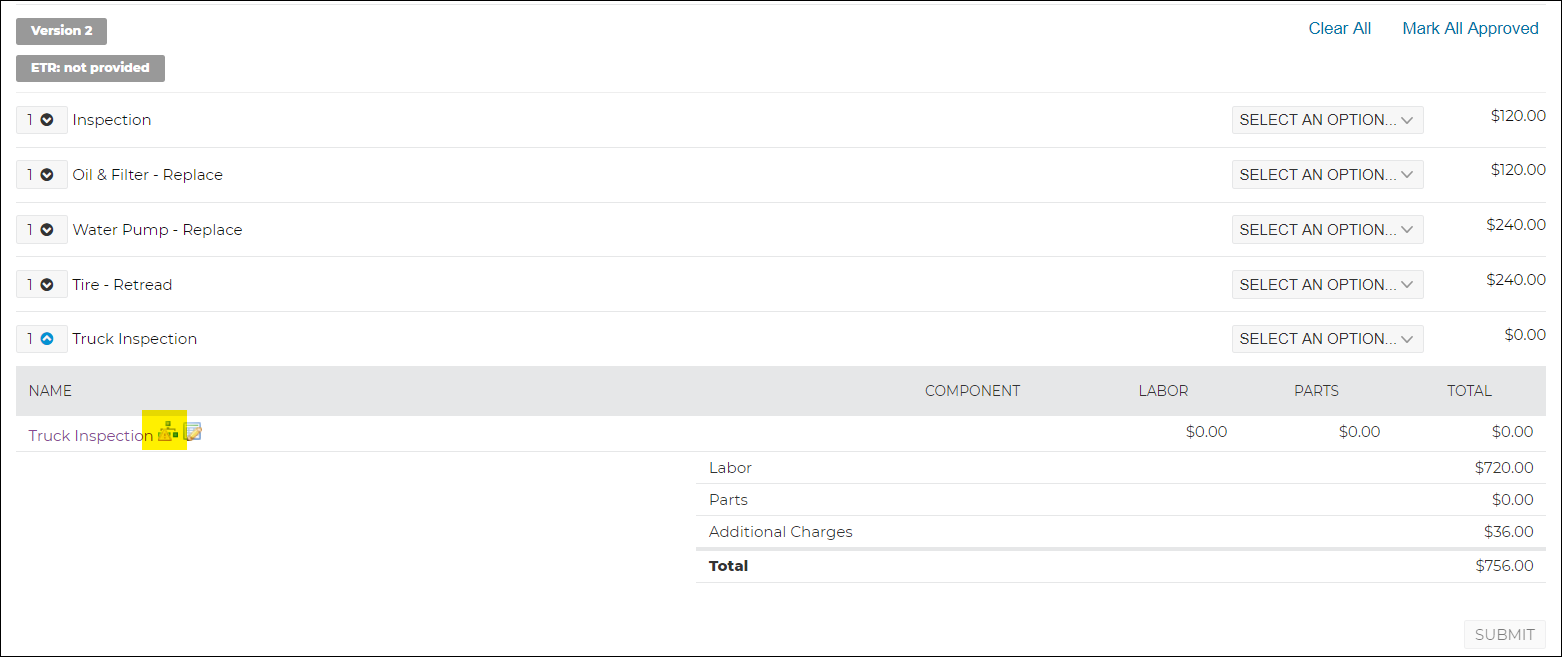 In the VMRS coding section for the operation, you can populate VMRS codes for the operation. After you enter the coding information, click SAVE.



Download estimate PDFs
Each time an approval request is submitted, a PDF version of the estimate is generated and sent. To view and download the PDF estimate, click the PDF icon toward the top right of the Approval Requested section.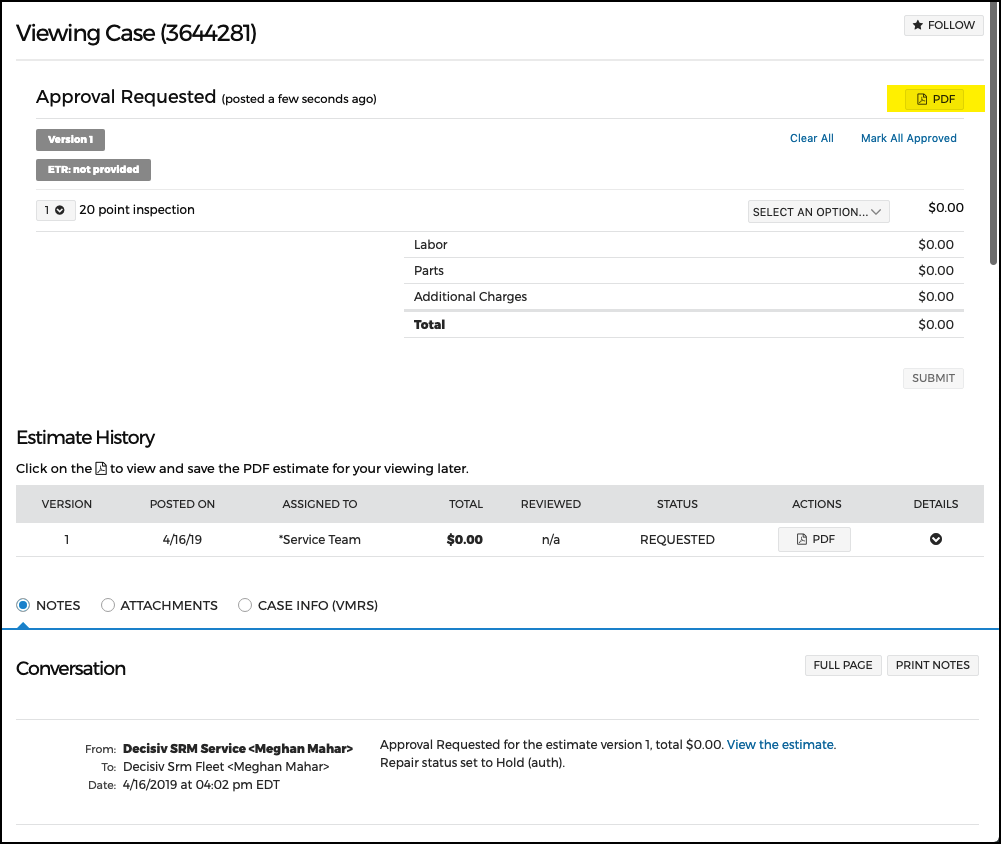 This will open a PDF version of the estimate you can view and download.
Review estimate versions
Each time an approval request is sent, a new version of the estimate is generated to reflect the updated line items and totals.
You can view each estimate version from the Viewing Case screen in the Estimate History section. Click the PDF button under the ACTIONS column to view each version.